Printed by https://uelzen.city-map.de/city/db/012502010201/elbe-valley-floodplains-
Elbe valley floodplains
River landscape and biodiversity
Image Copyright: Paetric Schwarz
The bisphere reserve Elbtalauen is formed by a natural stream landscape with distinctive relatively large floodplains areas. Typical countryside features like marsh areas, old creeks and floodplain forests can be found. Around 250 species of birds, numerous fish species and 1300 vascular plants could be verified.
Image Copyright: Paetric Schwarz
At the biosphere reserve Lower Saxon Elbe valley floodplains you get to know on around 1.000sqm lots about the countryside also on practical examples like the flooding model or eel travel.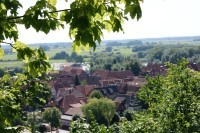 Image Copyright: Paetric Schwarz
This area also has a lot to offer on the culinary side, asparagus, potato festivals or the 'German Bailey´s', the ' " White Wendisch', which is produced from sheep milk. Discover this unique region wit your senses and possibilities either by ship, bicycle, on horseback, on foot, by canoe or in a carriage...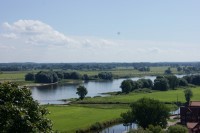 Image Copyright: Paetric Schwarz
Boat tours on the Elbe to Lauenburg, Bleckede, Boizenburg or to the ship hoist in Scharnebek guarantee you an entertaining day.